We have started the website building process in my classes. A majority of my students have been genuinely excited about this process. One thing that surprised me was how many students had already made websites and blogs for other classes. I fielded questions like, "Are we really going to use these this time?" and "What is my website about?" To these questions, I answered "ABSOLUTELY! We will use these and it is up to you how well these are utilized." and "your website is about you. It is YOUR website. I am just asking for a page on it." I knew that this process was important to our students' education, but I didn't know what I needed to teach them about it just yet. Through the process of allowing students to work and letting the problems come to me, I have found many teachable moments. We looked at other artist sites and debated the pros and cons of different layouts and navigations all the while teaching art history. I also found my real reason for student websites. They need to be creators, not just consumers of content. They need authentic audiences. They need practice at managing themselves in a professional manner. They need a chance to learn from their mistakes through as many creative cycles as possible. They need a record of all the awesome things they do as well rounded individuals in preparation for any career path and citizenship. This is a space they can own. It is a space they can be an individual. It is a space where they have a voice and they have control of something. This is something I feel every junior high kid is begging us for. Let's give it to them and teach them how to use their voice.
This week I attended the ICE Indiana conference for the second year in a row. It has been a great experience and a wonderful reminder to me. It has reminded me what kind of educator I aspired to be when I still held the position of tech coach. I have really enjoyed my first 9 weeks at Rensselaer, but as this first term comes to a close, I am excited to try some new things with this school, age group, and my classroom. It is time for me to take some risks and see what positive changes I can bring forth in my room. This is my first attempt at really curating a website that is a functional part of instruction in my classroom. I feel that in order to prepare our students for the future, we are doing them a disservice if we do not start online documentation and online portfolios to showcase their work. Higher Ed has started looking for these examples in their candidates, and employers are looking for tech literate workers. It is time we implement these tools in our instruction and it is time for me to model this habit. After all, if I can't stay committed to the same terms I ask of my students, how can I expect them to succeed. I am so excited to bring a shift to my room and become a better documentarian as I do this.
​RP
Powered by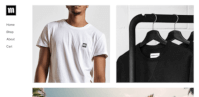 Create your own unique website with customizable templates.